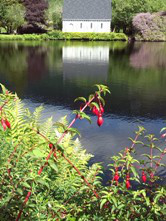 We don't enjoy feeling helpless. When people I love are suffering, I wish the pain could leave them and enter me. That dark pit where no one can reach in to assist--it's a place I don't want anyone to enter. I grow frustrated when I can't help. What if my attempts make things worse? I begin to slip into misery, too. As unpleasant as it is, it's the beginning of helping. It makes me desperate enough to "travail" for them.
My missionary friend, Sharron Etheridge, said she travailed over a dead baby named Tinkerbell, in Haiti. She wept in agony for four hours. God did a miracle, the biggest one I've ever heard, other than the salvation of a soul. So, I looked up the word travail.
Dictionary.com says travail means to suffer, as a woman in childbirth. It can also mean to toil or exert oneself. When I get desperate enough, I pour out all my misery, anger, and frustration to God. He comforts me as I weep and unburden myself. The Bible says His Spirit intercedes with groanings too deep for words. Often, better news arrives soon. Not always, though, and yet God changes me while He's working for my dear ones.
He turns my anger and frustration into faith and trust. As I pour out my own pain, caused by their pain, God does a miracle. He brings to mind the times He's lifted me from a pit. He brings to my remembrance...what He's told me, just as His Word promises. God might bring to mind a verse or promise I'd forgotten. He may melt my heart with His reassuring love, bringing more confident hope.
God always answers prayer. Sometimes, the answer is Trust Me. Then, I remember there are no dear ones I love as much as He loves them. Jesus says we're blessed when we reach the end of our rope. Maybe because we realize how much we need Him, and the distractions of the world fade away. We may hear Him best when no other voice can help.