Sunrise
Tuesday, August 23, 2016 by Cathy Everitt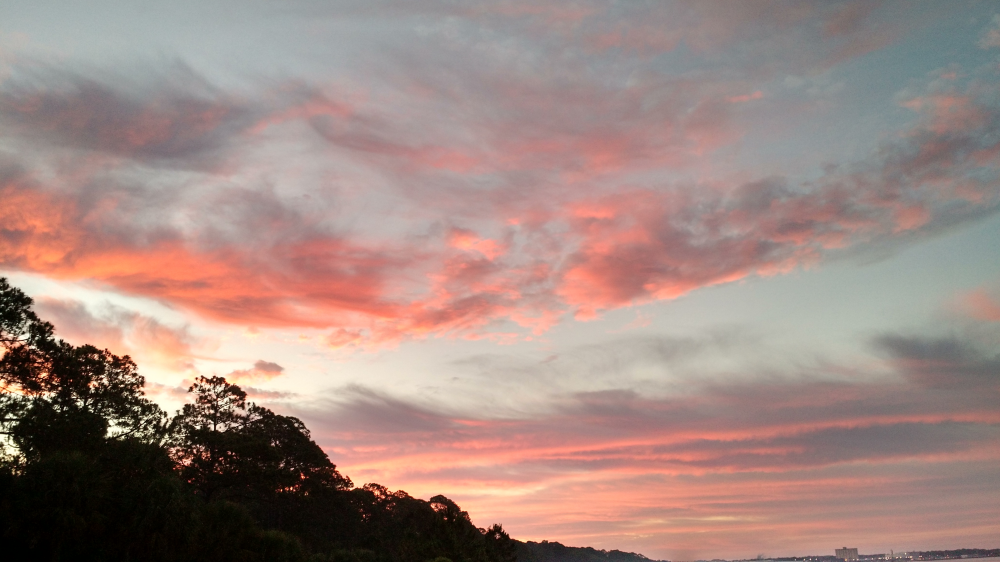 Sunsets can be gorgeous, but it's the sunrise that thrills me most. It's such a promise of resurrection and fresh starts. The Bible says God's mercies are new every morning, and the sunrise reminds me of this. It also reminds me of something Moses said - Satisfy us in the morning, Lord, with Your unfailing love, so we may sing for joy and be glad all our days.
Really? All our days? Is it possible to be so satisfied with God that I can sing for joy and be glad every day? When the day turns ugly with my own or someone else's pain, the singing for joy and gladness becomes difficult to say the least. Circumstances in a broken world and in broken lives scream at me to be afraid and angry. Sadness often precedes or follows the fear and anger.
Jesus. Oh, thank You, Jesus. You are always present inside me. You say Your Holy Spirit is my Comforter and Counselor. You say He will guide me into all truth and remind me of all You've said. His fruit includes joy and peace. You are always closer than my breath. I can always ask You, Jesus, for an infusion of joy, unconditional love, and peace, even in the worst of circumstances. As I give you honest feelings and faults, You replace them with hope and encouragement. When peace returns, I know we've had a meeting, You and I.
Just as You make the sun come up each morning, You give me whatever I need in every circumstance. Help me talk to you about each distress as soon as it begins, before it festers. A wise woman told me pain is unavoidable, but misery is optional. I choose You, Jesus, instead of misery. I want to bring everything to You, Lord. Remind me of Your promise in the book of Proverbs: It tells me because of You, my path is like the first light of dawn, growing brighter and brighter until full day. Don't let the clouds fool me, because You're leading me toward a glorious eternity
---
---