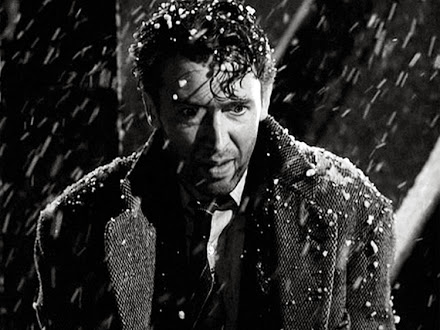 (It's A Wonderful Life, 1945)
The first time I watched this now-my-favorite-of-all-time movie, I had no idea I'd someday be in George Bailey's shoes, hating my life. At the film's beginning, we hear several people praying, one at a time, for George Bailey on his fateful night. Now that I've nearly memorized all the lines, I can recognize the voice of each character as it lifts, faceless, to the sky full of stars. I hear his children pray, "God, please help Daddy." His mother, wife, and friends each lift up a prayer for him.
Then we hear angels talking. The one assigned to go help him (see Hebrews 1:14), asks, "Why, is he sick?" The higher-ranking angel's voice answers, "No, worse. He's discouraged."
Discouragement is worse than sickness, worse than pain sometimes. Discouragement erases color from our world, and love from our hearts. I've felt it more times than I can count. This is why I feel passionate about lifting up others. When I don't pass out encouragement, the old enemy tempts me back to a colorless, dull existence.
But, like George Bailey, I discover how wonderful life can be. God fills me with His love, and I then have some to give away. Just like giving to God, the more I give away to others, the more I have.
I want to do as David did when he encouraged himself in the Lord. We need to pray for those who are discouraged, for it is worse than any sickness. It can happen to any of us when we least expect it, even during holidays. We have an accuser who accuses us day and night, wanting to steal, kill, and destroy. Let's open that bottomless Bible-reservoir of encouragement, and rejoice, for our Redeemer draws near!