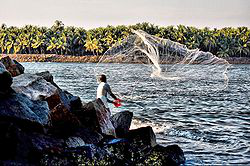 I just came across a journal from the year 2001. I had listed 39 things I worried about. I hadn't known I was worrying about them. The Lord showed me these fears I was stuffing down while pretending to trust Him. I remember just listing them made me feel better. He helped me realize if He can make the sun rise and set every day, He can take care of all my big and small concerns. He also taught me gratitude and praising is an antidote for worry.
His Word tells me in at least two places to "cast" all my cares on Him because He cares for me, (1 Peter 5:7 and Psalms 55:22). So I remember taking that journal and holding it up, saying, "Here, Lord, I'm giving these to You. Please take care of all these things." Singing to Him always helps, too.
Guess what? None of those 39 things on my list ever came to pass. God took care of all of them. Every. Single. One.
I'm asking Him now to show me what worries or fears I may be running from, so I can consciously cast them onto Him. I picture a fisherman slinging or hurling a big cast net into the deep water. Psalm 103 tells me to "forget not all His benefits." When I remember even a few of the major things He's delivered me from, it seems silly to worry now about anything. How about death, sin, and the grave? He's eternally settled those for me!
But only He can replace worry with trust. Psalm 9 says, "Those who know Your name will trust You, Lord, because You've never forsaken those who seek You." The more I know Him, the more I will trust Him.
Jesus told us in the gospel of Matthew that if we seek Him first, everything else will be added. He's never broken a promise. Seeking Him is like seeking delicious treasure. "In His presence there is fullness of joy, and in His right hand pleasures forevermore." (Psalms 16:11)
Lord, show me how to truly cast, or hurl, all my cares onto You. You are well able to accomplish and perfect, or complete, everything that concerns me. Your Word promises You will. Help me not waste precious time and energy worrying about anything. Help me dwell on what is excellent and worthy of praise. You've never failed and You won't start now! Even when bad stuff happens, You always bring beauty from ashes. Help me know You more, so I will trust You more..