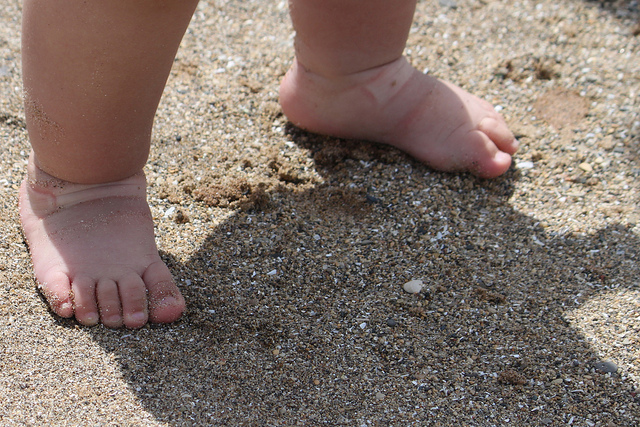 Brodi, my grand-nephew, is in that cutest of all stages, toddlerhood. He just learned to walk, and I adore watching him. With legs spread wide, he keeps both arms bent at the elbow, hands curled into fists, and as he toddles, his arms seem to serve as balancing pistons. While waddling along, at the fastest speed he can manage, he jabbers to himself in toddler-speech, perhaps cheering himself on.
This morning during my stroll the Lord whispered to me that I'm plenty old enough to walk and talk at the same time, too. He brought to mind the years in Central Florida when He and I had a two-way conversation every day while I walked. Since moving to Panama City eighteen years ago, I've continued to lift up requests to Him during sunrise journeys, but, for a lot of the time I just follow my own thoughts, which Isaiah called "the way that is not good."
Isaiah also told us God says, "Call to Me, and I will answer you and tell you great and mighty things you do not know." Today Jesus invited me to walk while holding a two-way conversation with Him at the same time. The slightest whisper from His heart to mine is more healing than any music. Once I gave Him my heart, He came to live inside me in the person of His Holy Spirit. He is the same Holy Spirit, the Bible says, who raised Jesus from the dead.
He can raise me from futile or worried thoughts, into a grateful celebration of the slightest breeze, fuzzy caterpillar, or tiny rosebud. He's closer than my breath, all the time, no matter what. I look forward to walkin', talkin', and listening to Him tomorrow. Pray for me, please? I want to accept His invitation to this most rewarding, joyful multi-tasking.