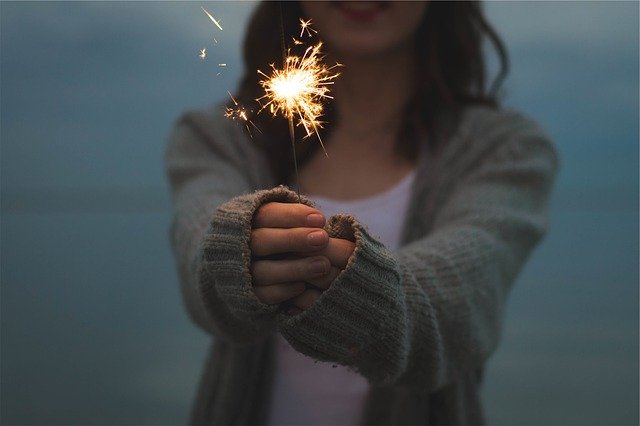 My new friend Joyce told me she can't get used to being alone. Her husband passed away, with no warning, four years ago. She has children, grandchildren, and friends, but loneliness is her constant companion.
If we live long enough, most of us will have at least one or more seasons of being alone. I remember my first New Year's Eve as a single mom. While my four-year-old slept, I cleaned house, cried, and listened to Christian radio. On the radio, I heard a woman say her life changed forever when she began keeping a gratitude journal.
I began mine that lonely night, in 1987, as it rolled into becoming 1988. Since then, I've started a new gratitude journal every year. It has changed my life, too. Instead of my natural inclination to be a "glass half empty" kind of person, I began to change deep inside. As I watched for blessings, I began to notice them.
One thing I wrote down that night has always stayed in my memory. It was the look on my son Michael's face as he woke on Christmas morning. Wearing his blue flannel Charlie Brown pajamas, he came into the living room rubbing his sleepy eyes to see what he'd find under the tree. He had, and continues to have, a dad who adores him and has always been there for us, even though married to someone else. It took me several more years to appreciate that blessing.
My friend Johnna told me earlier this year that she tries to remember what she read about hummingbirds and vultures—Hummingbirds spend every day looking for something sweet, and they find it.
Vultures, though, search for something dead or dying. They find what they're looking for, too. Our world is full of death, dying, and evil. Suffering, loneliness and bitterness are all around us. When I don't look to the Light, the darkness can feel oppressive.
Lord, help us be like hummingbirds in this new decade, searching for something sweet. Help us provide something sweet in the lives of each person whose path we cross. Even if they never know we prayed for them, use our prayers and acts of kindness to sweeten their lives. Show them You want to become their perfect Lover and Friend. Use us, as You change their loneliness into the abundant life only You can give.